Product Description
Easy to operate and program
Using the operating unit on the welding torch and simple programming directly at robot control
Safe in line with TRUMPF standards
Safety cabin with anti-glare protection, self-cleaning exhaust system, LED lighting and collaborative robot
Quick set-up and start-up
Set the machine up at the desired location and start operation within just a few hours
Thanks to high-performance equipment from Fronius and set-up parallel to production using two-station operation
Technical data
Equipment
Combination of intuitive operating unit on the welding torch and simple programming directly at robot control for minimum programming times. The design of the machine's central operating unit is simple and clear.
Collaborative robot UR10e with six axes and force moment sensor. The linear axis positions the robot on the left or right.
Safety cabin with integrated exhaust system, automatically opening anti-glare protection and lighting. The extendible partition wall divides the work area for two-station operation if required.
High-performance welding equipment from Fronius: TPS 320i C PULSE welding source including welding package PMC, ultra-slim 350 ampere torch and external wire feed system.
3D welding table by Demmeler with hole pattern D16 in a 50 x 50 mm grid and hardened surface. The table's dimensions are 2000 x 1000 x 100 mm.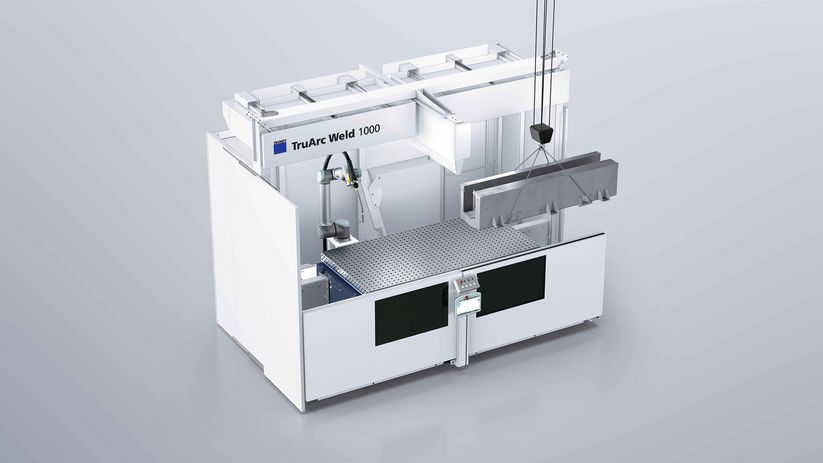 User-friendly loading of heavy and large components and devices is possible with this option. To do so, the cab cover is opened individually over the two stations and the component is loaded into the machine interior by crane.
Technology package – CMT welding
The optional technology package CMT welding ensures higher process reliability and energy-reduced welding with fewer weld spatters and little distortion with the TruArc Weld 1000.
Pendulum welding is particularly beneficial for thick sheet processing. You can prevent a lack of fusion with wide weld seams.